Kona Bicycles Shonky 2022
"Instead of fancy wheels or the latest wiz-bang suspension fork, we lobby that you grab a dirt jumper instead. If you can find one, the Shonky should be on that shortlist." -Vital MTB
Ship it today?
Order by 4:00p, Mon-Fri
Free sameday pickup
Order by 6:30p, Mon-Sat
| | |
| --- | --- |
| Delivery time: | In Store Pick Up Only |
Whether you're a seasoned dirt jumper or just learning to cruise your neighborhood pumptrack, the Shonky is the perfect weapon of choice for the jibby side of biking. A Cromoly butted frame holds a 100mm tapered fork that gives you just enough suspension to save your wrists. Fast-rolling tires ensure you whip around corners at top speed. The Shonky is a party waiting to happen.
SPECIFICATIONS
| | |
| --- | --- |
| Frame Material | Kona Cromoly Butted |
| Sizes | Short, Long |
| Rear Shock | n/a |
| Fork | Manitou Circus Expert 100mm Tapered 110mm Spacing |
| Crankarms | Samox Dirt Jumper |
| Chainrings | 28t |
| B/B | Samox Dirt Jumper |
| Pedals | n/a |
| Chain | SRAM PC1 |
| Freewheel | Joytech Single Speed 14t |
| Chainguide | n/a |
| F/D | n/a |
| R/D | n/a |
| Shifters | n/a |
| Brake Calipers | Tektro HD-M275 |
| Front Brake Rotor | Tektro TR160mm |
| Rear Brake Rotor | Tektro TR160mm |
| Brake Levers | Tektro HD-M275 |
| Headset | FSA Orbit 1.5B ZS |
| Handlebar | Kona XC/BC 35 |
| Stem | Kona XC/BC 35 |
| Seatpost | Kona Thumb |
| Seat Clamp | Kona Clamp |
| Grips | Kona Key Grip |
| Saddle | Kona Dirt Jump |
| Front Hub | Formula 110x20mm |
| Rear Hub | Formula 142x12mm |
| Spokes | Stainless Black 14g |
| Rims | WTB ST i30 TCS 2.0 |
| Front Tire | Maxxis DTH EXO TR DUAL 26x2.3" |
| Rear Tire | Maxxis DTH EXO TR DUAL 26x2.3" |
| Paint Color | Satin Crème de Menthe w/ Raised Decals |
| Extras | n/a |
All specifications are subject to change without notice
GEOMETRY

mm

inches
| | | | |
| --- | --- | --- | --- |
|   | Size | S | L |
| 1 | ST Length | 347 | 347 |
| 2 | TT Length | 611 | 624 |
| 3 | Reach | 415 | 428 |
| 4 | Stack | 584 | 584 |
| 5 | Standover | 680 | 677 |
| 6 | HT Angle | 69 | 69 |
| 7 | HT Length | 120 | 120 |
| 8 | ST Angle | 71.5 | 71.5 |
| 9 | CS Length | 400 | 400 |
| 10 | BB Drop | 26 | 26 |
| 11 | BB Height | 307 | 307 |
| 12 | Wheelbase | 1074 | 1087 |
| 13 | Front Center | 675 | 688 |
| 14 | Fork Length | 492 | 492 |
| 15 | Fork Offset | 42 | 42 |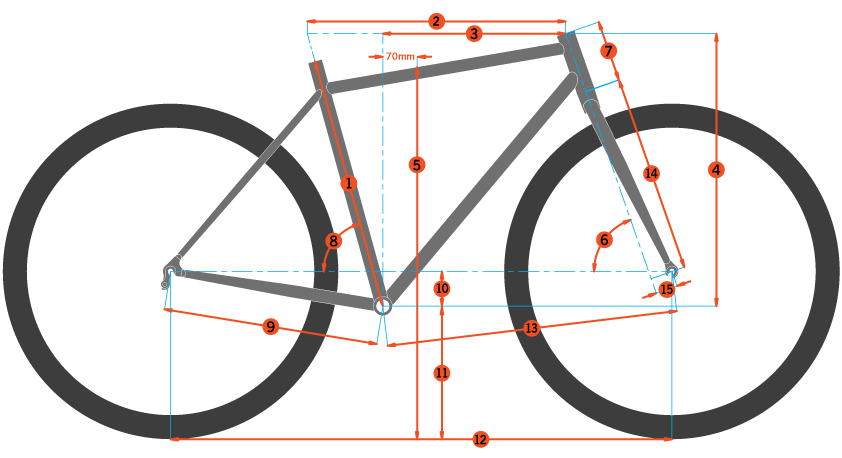 SIZING + FIT
GRAVEL / DROP BAR / URBAN
| Height/Inches | Height/Metric | Inseam/Inches | Inseam/Metric | Rove/Jake | Libre | Sutra | Dews | CoCo |
| --- | --- | --- | --- | --- | --- | --- | --- | --- |
| 4'10"-5'1" | 147-155cm | 24"-27" | 61-69cm | 48cm | 50cm | 48cm | N/A | XS |
| 5'0"-5'3" | 152-160cm | 26"-29" | 66-74cm | 48-50cm | 50cm | 48-50cm | Small | Small |
| 5'2"-5'7" | 157-170cm | 27"-30" | 69-76cm | 48-52cm | 50-52cm | 48-52cm | Small, Medium | Small, Medium |
| 5'6"-5'10" | 168-178cm | 29"-31" | 74-79cm | 52-54cm | 52-54cm | 52-54cm | Medium | Medium |
| 5'9"-6'0" | 175-183cm | 30"-33" | 76-84cm | 52-56cm | 54-56cm | 54-56cm | Medium, Large | Medium, Large |
| 5'11"-6'2" | 180-188cm | 32"-35" | 81-89cm | 54-58cm | 54-58cm | 54-58cm | Large, XL | Large |
| 6'1"-6'5" | 185-196cm | 33"-36" | 84-91cm | 56-58cm | 58cm | 56-58cm | XL | N/A |
MTB / ALL MOUNTAIN / SPLICE
| Height/Inches | Height/Metric | Inseam/Inches | Inseam/Metric | MTB/XC Trail/Fat | All Mountain/Enduro | Splice |
| --- | --- | --- | --- | --- | --- | --- |
| 4'10"-5'1" | 147-155cm | 24"-27" | 61-69cm | XS | XS | Small |
| 5'0"-5'3" | 152-160cm | 26"-29" | 66-74cm | Small | Small | Small |
| 5'2"-5'7" | 157-170cm | 27"-30" | 69-76cm | Small, Medium | Small, Medium | Small, Medium |
| 5'6"-5'10" | 168-178cm | 29"-31" | 74-79cm | Medium | Medium | Medium |
| 5'9"-6'0" | 175-183cm | 30"-33" | 76-84cm | Medium, Large | Medium, Large | Medium, Large |
| 5'11"-6'2" | 180-188cm | 32"-35" | 81-89cm | Large, XL | Large, XL | Large, XL |
| 6'1"-6'5" | 185-196cm | 33"-36" | 84-91cm | Large, XL | Large, XL | Large, XL |