Priscilla Talley - 08 / Aug / 2022
August Newsletter! Come Ride Bikes With Us!
Lets ride bikes!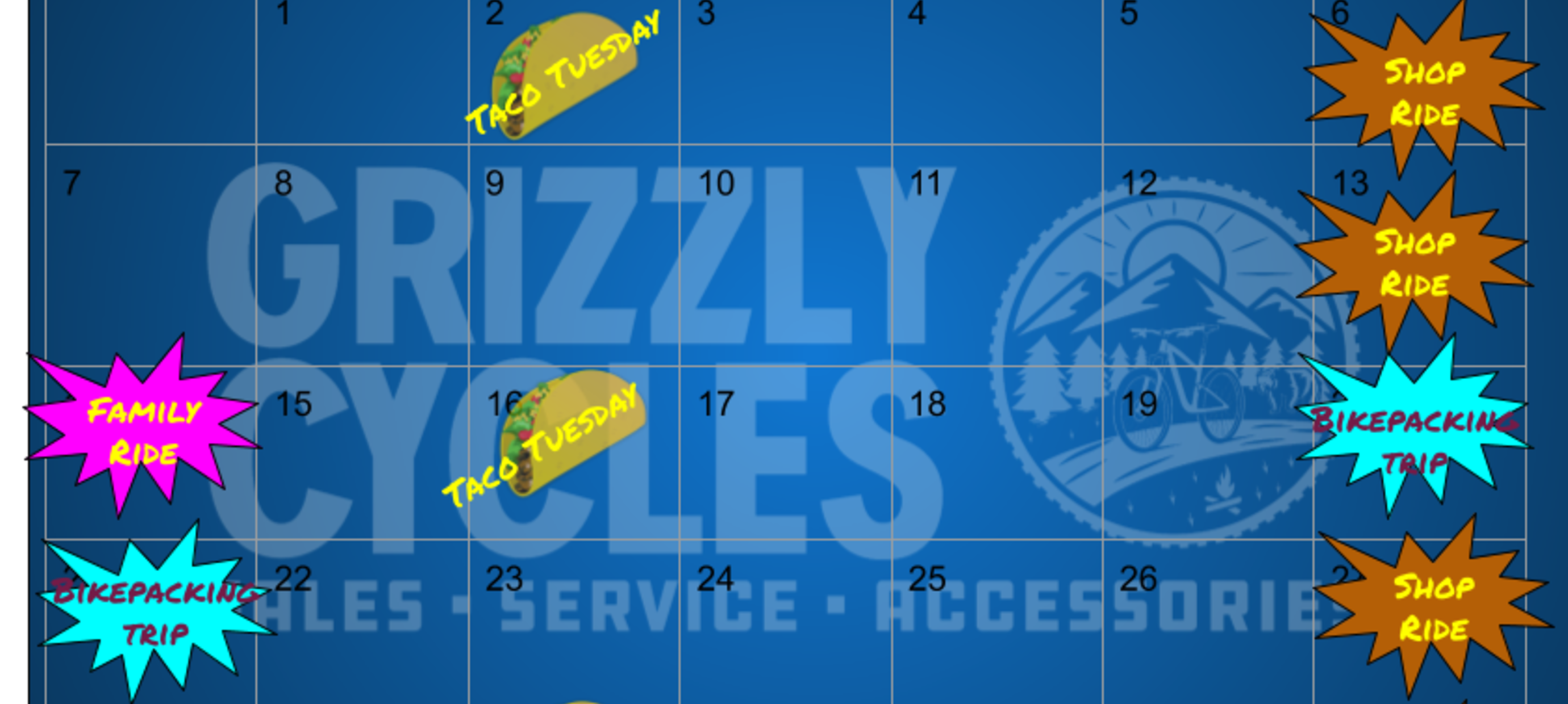 We just had our Backpacking Q&A, did you miss it? We have it posted on Instagram. Have more questions about where to start, what to bring,  what kind of bags to use? Come on by and pick our brain, we'd love to help! We'll be going on a beginner friendly backpacking ride later this month (flyer down below).
We just redesigned our website, making it more personal and user friendly. Don't forget we still have our sale going on online.  Or financial options which comes in handy when wanting to purchase a bike.
[www.grizzlycycles661.com?A360=218861450]
Meet our friend Drew! Grizzly Cycles newest shop ambassador!
| | |
| --- | --- |
| | "Hi my name is Drew Raney Grizzly Cycles newest ambassador. You'll find me on my Kona Honzo in the mountains on the weekends and cruising on the canals on my gravel single speed on my weekday commute. As a physical education teacher in Wasco, CA., I've been focused on getting more kids on bikes through fundraising and working with non-profits in our local community. " - Drew |
Join us on our next backpacking trip! We'll be riding from the shop and head out to Buena Vista Lake. This is 100% self supported. You carry all the gear you need, and make alternate plans just in case things don't work out. 

We reserved 2 camp spots so we have enough room for 20, RSVP your spot. Email- [email protected]
Weekly Rides
Taco Tuesday- Ride from the shop at 6:30pm, about 5-10 miles to tacos. All riders welcome
Saturday Rides- Ride from the shop at 7am about 20-30 mile gravel ride, unless otherwise posted to social media.
Sunday 8/14- Family ride to Haggin Oaks Farmers Market. Meet at Yokuts Park 9am, ride on the bike path to the farmers market to have a nice family day before school starts.
| | |
| --- | --- |
| | Looking to replace that worn out 2x or 3x drivetrain but don't want to take a small loan out to keep your bike riding right? Well let's talk about how @microshiftofficial is killin' the game right now with the Advent X 1x10 drivetrain. They are offering flat bar or drop bar and e-bike compatible options. Stop by the shop and let's talk about if the Advent X upgrade is a solid way to keep your bike on the road or trails. |
2305 Alta Vista Dr
Bakersfield, Ca 93305