Kevint143 - 09 / Feb / 2023
Full Moon Overnighter Recap
Full Moon Overnighter: Carrizo Plain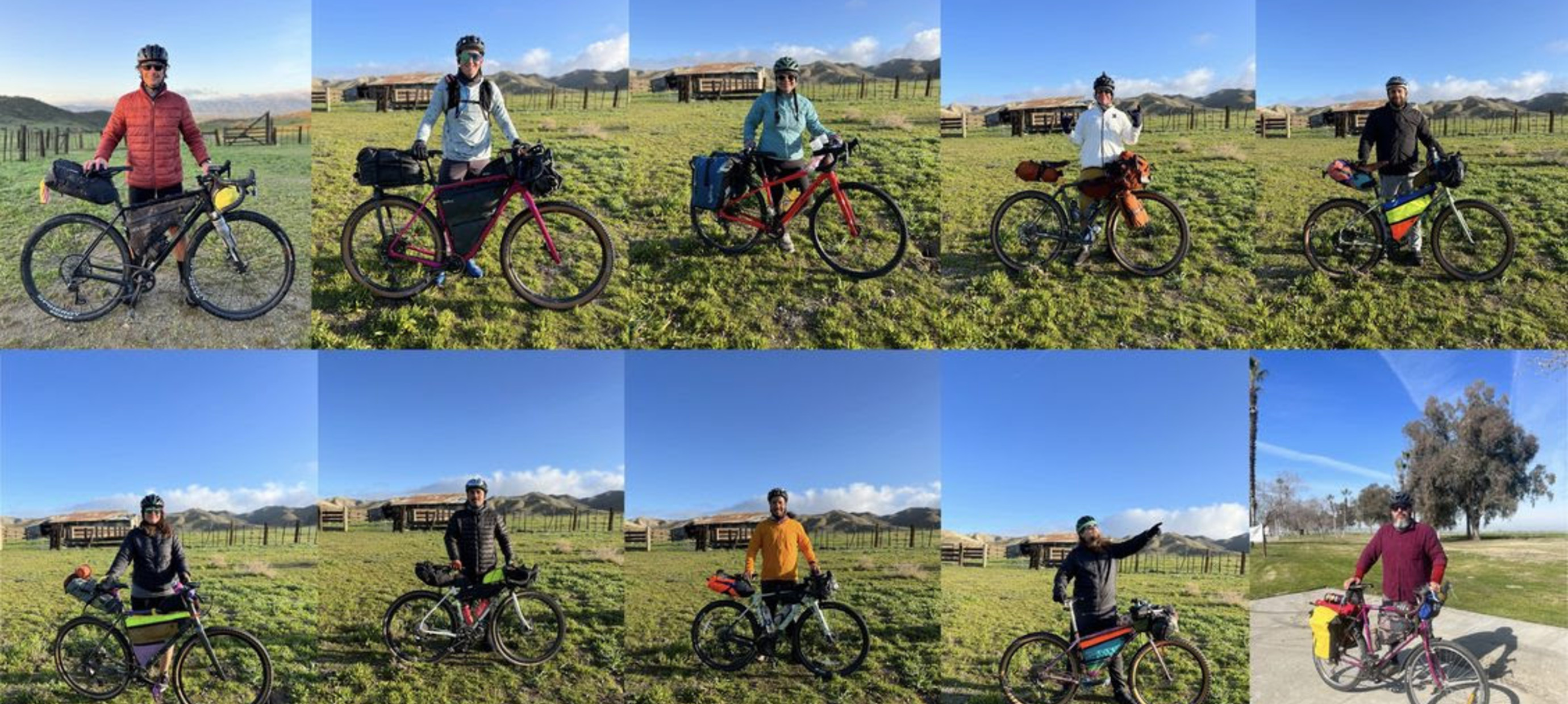 Full Moon Overnighter:
Carrizo Plain
This past weekend 10 of us set off for our second Full Moon Overnighter of the year! This month we decided to head out to the beautiful Carrizo Plain for a night of camping and good times!
The first day brought us along the Kern River parkway out to Buena Vista Lake. We rode along the aqueduct towards Taft and ultimately on to the Carrizo Plain National Monument. Our day on the bike was challenging with 65miles and just under 3k of elevation. Snacks were consumed as we put down the miles!
Once we got to camp we enjoyed each others company as we made dinners, drank some
beers and hung around the fire. After a long day of riding we eventually settled down and hunkered down in our sleeping bags. After a few hours it started to rain on us which always makes things interesting! One of my favorite parts of bikepacking is adapting to whatever gets thrown your way!
In the morning we slept in longer than we planned but I feel like we all needed it. Day 2 was going to be a tougher day than we anticipated but we took it with a smile and kept on going! Once we got rolling we got to ride through the scenic Carrizo Plain which is just breath taking this time of year. We headed to Hwy 166 where we had the most epic descent that made all of the climbing worth it. Once back in Maricopa we decided to alter the route and head back the most direct route because the wind and rain were picking up! Back along the aqueduct we headed. After battling head winds the skies opened up and the rain started coming down. The last of us decided to call it early as we still had 20+ miles to go and we're not prepared to ride in the amount of rain that came. After 130 miles over two days and just under 5k of elevation. We were all satisfied with what we accomplished and are already planning for the next one!
If you're interested in bikepacking and want to join us on any of our Full Moon Overnighters please do! Our rides are always free to attend as we are trying to make adventure cycling more accessible for all.
With that said check out the calendar and save a few dates! If you need any gear or help please use our Gear Library for bike bags and camping gear to use FREE OF CHARGE! !