Harry Katz & Kevin Talley - 24 / Dec / 2021
January 2022 Newsletter
Jan 2022 Newsletter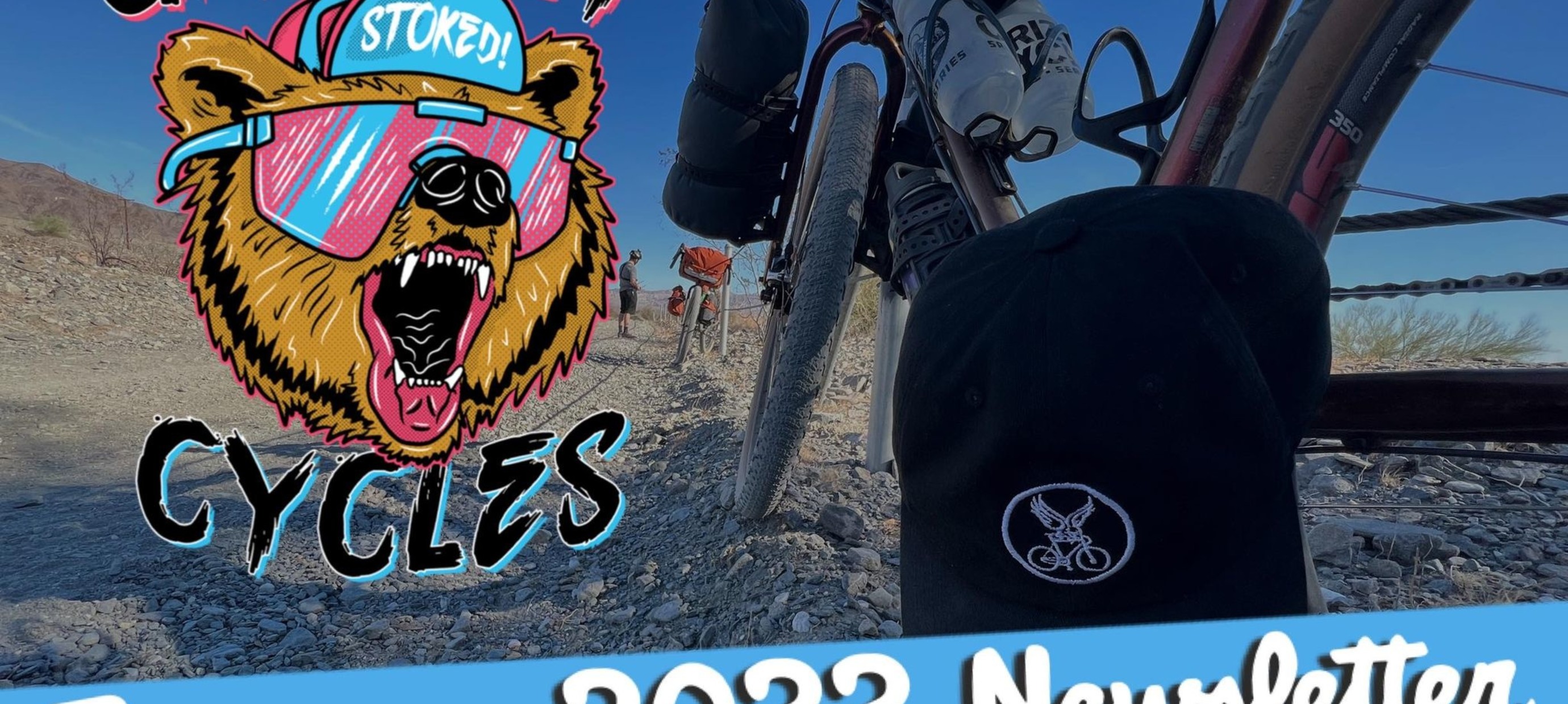 Where does the time go?
It's hard to believe that we are entering our fifth year in business. We started out of the back of a van and we've enjoyed our own brick-and-mortar shop for a few years now (big news about the shop later on). It's all thanks to awesome customers like you. You all have turned this humble bike shop into a thriving community of rad riders. Here's to you!
Grizzly Cycles Adventure Guide
January 2022
We have a few announcements to make about upcoming events this month:
The shop will be closed January 1st and 2nd for our New Year's bikepacking trip. We are leaving Dec. 31st and braving the cold and wet to ride 169-miles from Bakersfield over to Morro Bay.
It's gonna be rad.
Taco Tuesday rides will continue as normal. We leave the shop at 6:30 p.m. every other Tuesday and pedal to where the tacos are. That's on the 4th and 18th this month. Ride, refuel, and ride back to the shop.
Saturday morning gravel rides will also occur as normal. We leave the shop at 8:00 a.m. on a "no drop" ride for 20- to 30-miles. That's the 8th, 15th, 22nd, and 29th of this month. All skill levels welcome. 
New Year, New Gear Annual Sale!
Order any set of Spinergy wheels from Grizzly Cycles during January and we will waive all labor for swapping your new wheels.
Tire install, Tubeless Install, Cassette Install & Rotor Install will be on the house! Give the shop a call, stop by or grab a set online for your bike!
Last but not least, we have a big news regarding the shop. The shop you've all come to know and love will be undergoing a major remodel. We have completely updated the floor plan, so expect a brand-new experience next time you're in the shop. We look forward to having an expanded sales floor as well as a larger area for customers to gather. Don't worry, though. The remodel will have a minimal effect on the turnaround on your bike. So, if you need anything worked on feel free to bring it in to the shop this month. 
We are looking forward to another stellar year with all of you. Many more miles and many more memorable moments are in the works.
Happy New Year's and Keep the Stoke. 
-Grizzly Cycles