Drew Raney - 14 / Apr / 2022
Our friend Drew tackled the Tour De Los Padres!
Drew Tackles the TDLP!!!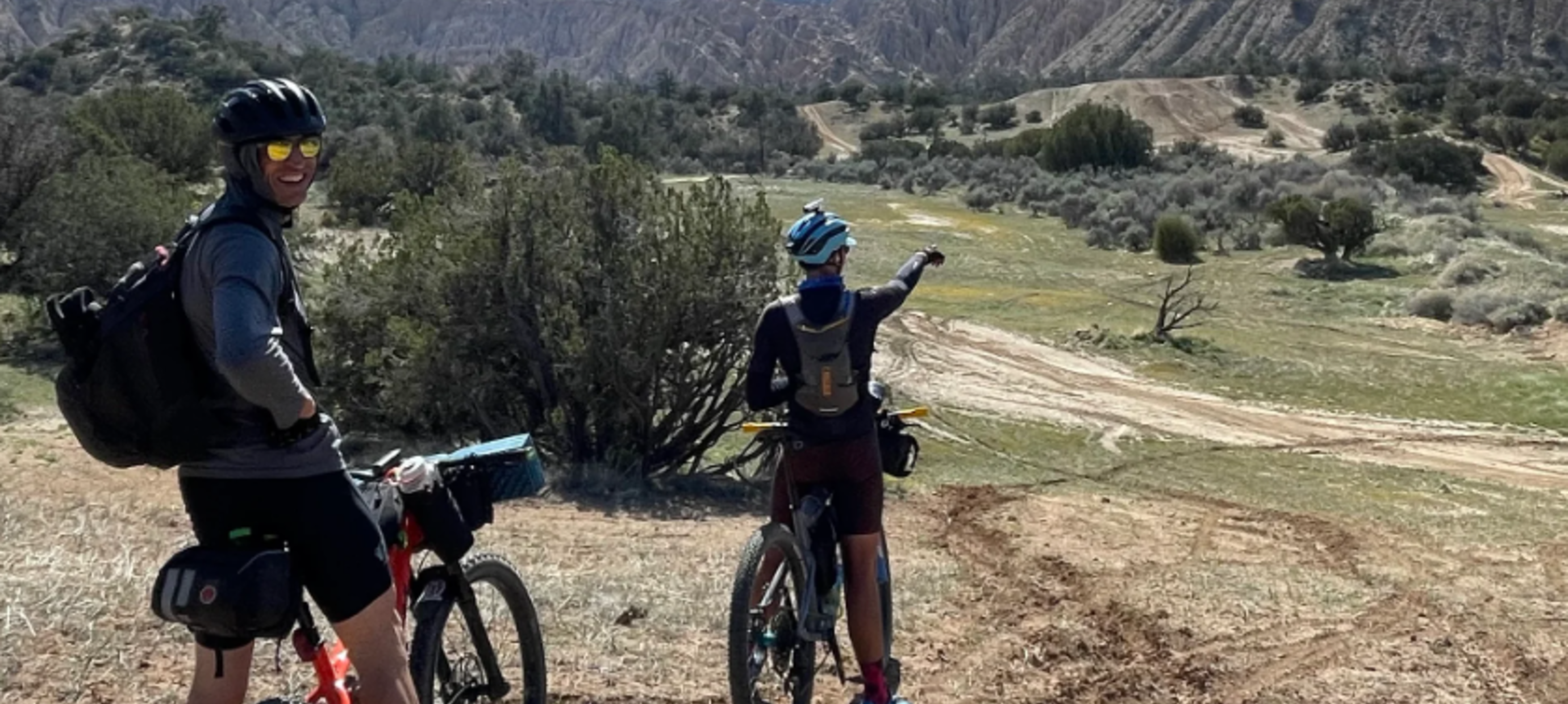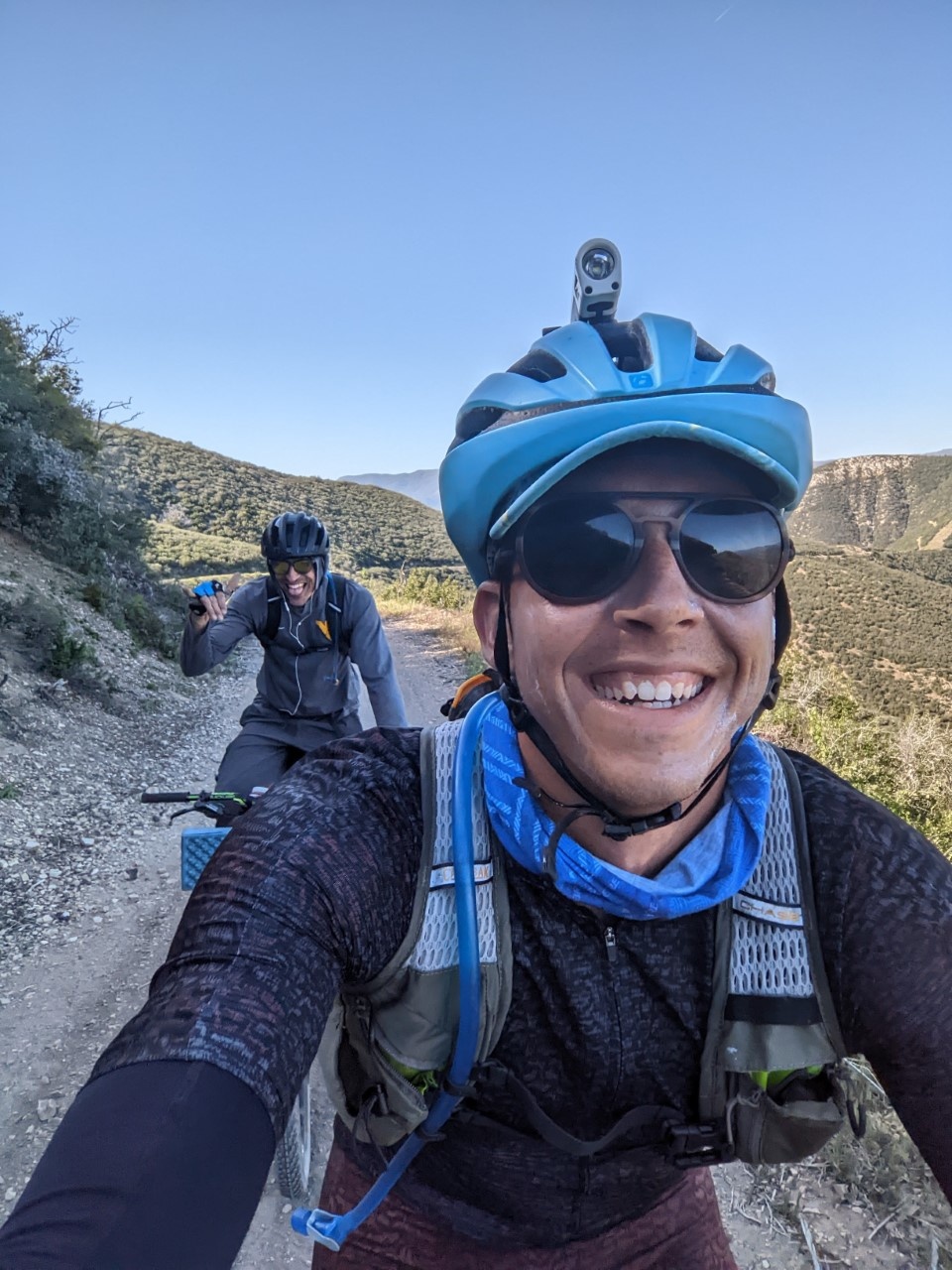 On Friday April 8th, over 20 riders rolled out their loaded rigs and started on the Tour De Los Padres route. My riding partner Steven and I were two of them. Some of the other riders looked at my set-up and asked is that all I'm taking? I laughed and said some dumb joke about being ultralight yet this was my first bikepacking event. I didn't feel that I fit in with all of these experienced riders. Just the other day on the Grizzly campout I was cursing that I couldn't fit my sleeping bag into a compression sack while everyone waited on me to get going. But here I stood, ready to test my limits on these next 170 miles. I told Steven we were going to do it in two days but if we had to spend three out there we would. These would not be easy miles at all. We would be climbing Mt. Pinos, the Sierra Madres, and the Coastal ranges to get to Santa Barbara from Frazier Park.
After rolling out, we felt the heat quickly. Apparently we were the first Bakersfield participants to sign up for the official grand depart ever. Most of the other riders were from Santa Barbara or other coastal cities. Luckily after crawling up the road climbs we made it into the dirt. We had to climb up all the way to the McGill campground to hit the Mt. Pinos singletrack. At some points, walking went just as fast as riding the fire roads up due to how steep it was. After summiting on our route after the first major climb, I made a big mishap and froze up on the singletrack. Steven who was hot on my wheels ended up hitting my derailleur causing it to become slightly bent. We considered bending it back but luckily it still shifted into each gear, just a little bit noisy. We hit gas stations to resupply and enjoy ice cream, our spirits were high and our legs were still fresh at this point.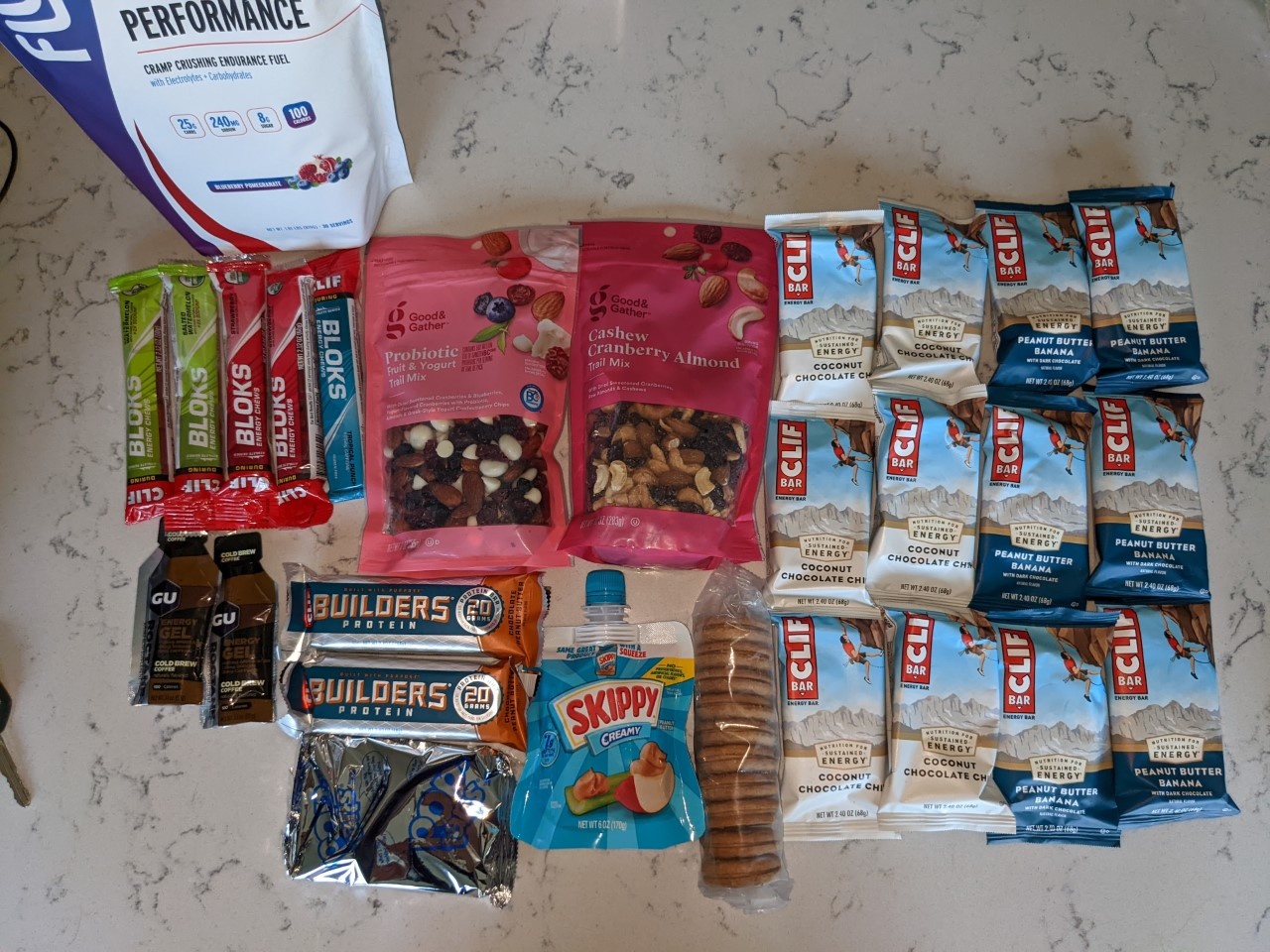 After bombing down the pavement out of Pine Mountain Club hitting over 45 mph on our loaded rigs, we got back into the dirt in Quatal Canyon. We were met with some beautiful scenery as we descended through the dirt and on moto carved singletrack. We had been leapfrogging with other participants but eventually just decided to stick together since none of us really truly knew which way we needed to go. But eventually, after miles of dirt, Steven enjoyed a big roadside burger while I chose pie and more ice cream at "The Place" off Hwy 33.
We shared stories with other riders and talked about our intentions to finish within two days. We were met with some wide eyes and I checked the tracking to see that the fast riders were way ahead of us. I nicknamed us team Pro Slow at some point laughing about the fact that I was the most XC looking racer in my full kit while it seemed like we were barely getting anywhere. We eventually made it to New Cuyama where we loaded up on water and food as this would be our last chance to resupply until Santa Barbara.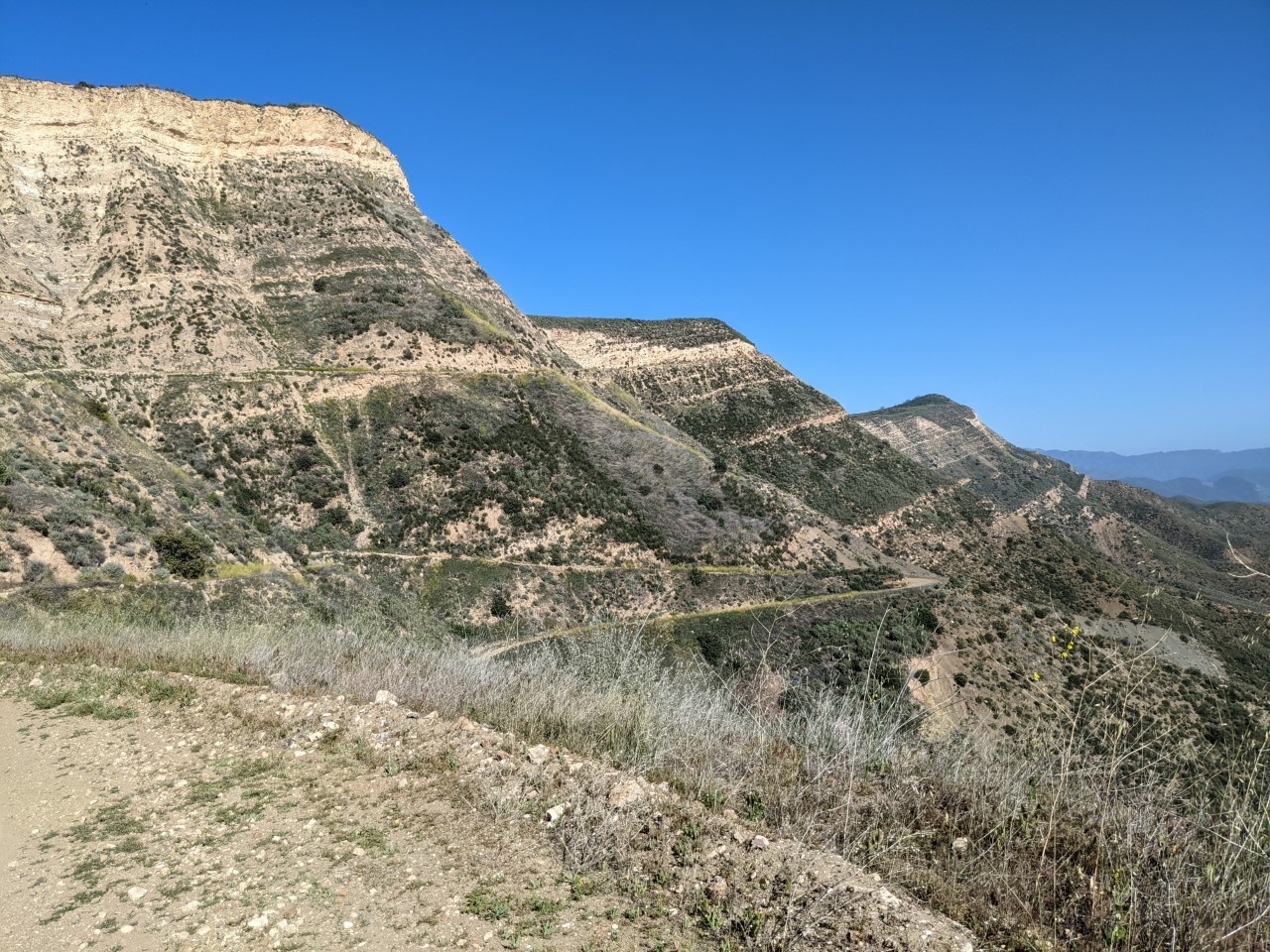 Despite having multiple opportunities to camp in a great spot, I told Steven we needed to get this hike-a-bike section done. The previous week I had come up to scope out the trail and realized that it's completely unrideable. During the scope-out, I managed to stab my finger deep into an overgrown yucca plant which the trail was littered with. This time during the ride, I was extra careful to navigate what felt like a two hour hike-a-bike section in my carbon riding cleats. I reminded myself that I chose to do this, that I was here to push myself and remembered how many people were following along and cheering us on. We got up the hike a bike section around 10pm before we pushed onto Painted Rock Campground in the Sierra Madres. Day 1 complete: 85 miles, 8,500 ft of climbing, and over 14 hours since starting that morning. Steven woke me up around 6am which I am grateful for because I probably would have kept laying there in my warm sleeping bag. After taking way too long to get moving again, I finally got rolling again at 7:30am with legs as fresh as they could be after a 14 hour day.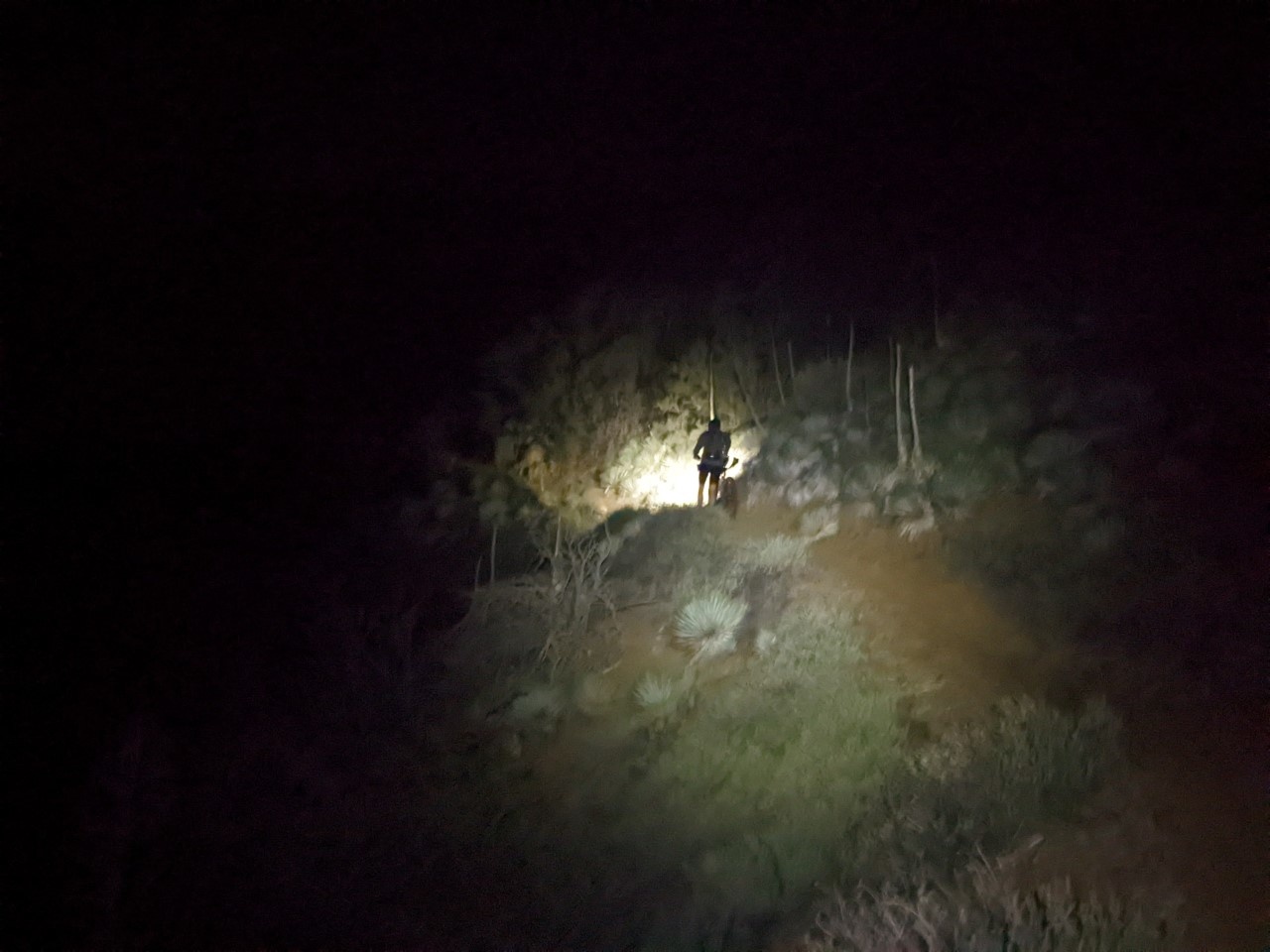 Day 2: We navigated the Sierra Madre road as it flowed up and down, through smooth sections and torn up cow tracks. We spoke with other riders and discussed the day ahead of us. It was hard not to stop every 10 minutes to snap a picture of how beautiful the scenery was. I thought about how few people would be able to experience this. It was only accessible by foot or bike. We were one of the lucky few who could pedal our bikes up to see this terrain. I ended up mistakenly only packing one riding bibshort apart from a thermal one. After the temps picked up again I got back in my same bibshort that I had worn the previous day. Not always the best choice but miles and miles away from any sort of civilization you make do. We trudged on climbing before we hit the top of Big Pine mountain on the route. After lunch, it was time for several thousand feet of descending. We flew down the mountain at breakneck speeds, I went crazy again on the rocky flowing descent. So much so that Steven had to call me out for endangering myself. I took his advice and tried to be more responsible since any mishap could have equated into a helicopter ride home rather than completing what we had set out to do. My XC tires were still zipping along and my hub was buzzing, I was hooked. I filtered water for the first time in the backcountry in a creek where we got bit by mosquitos and dodged poison ivy. We spoke with another rider who shared with us that she was going to hit the singletrack option and go for a three day finish.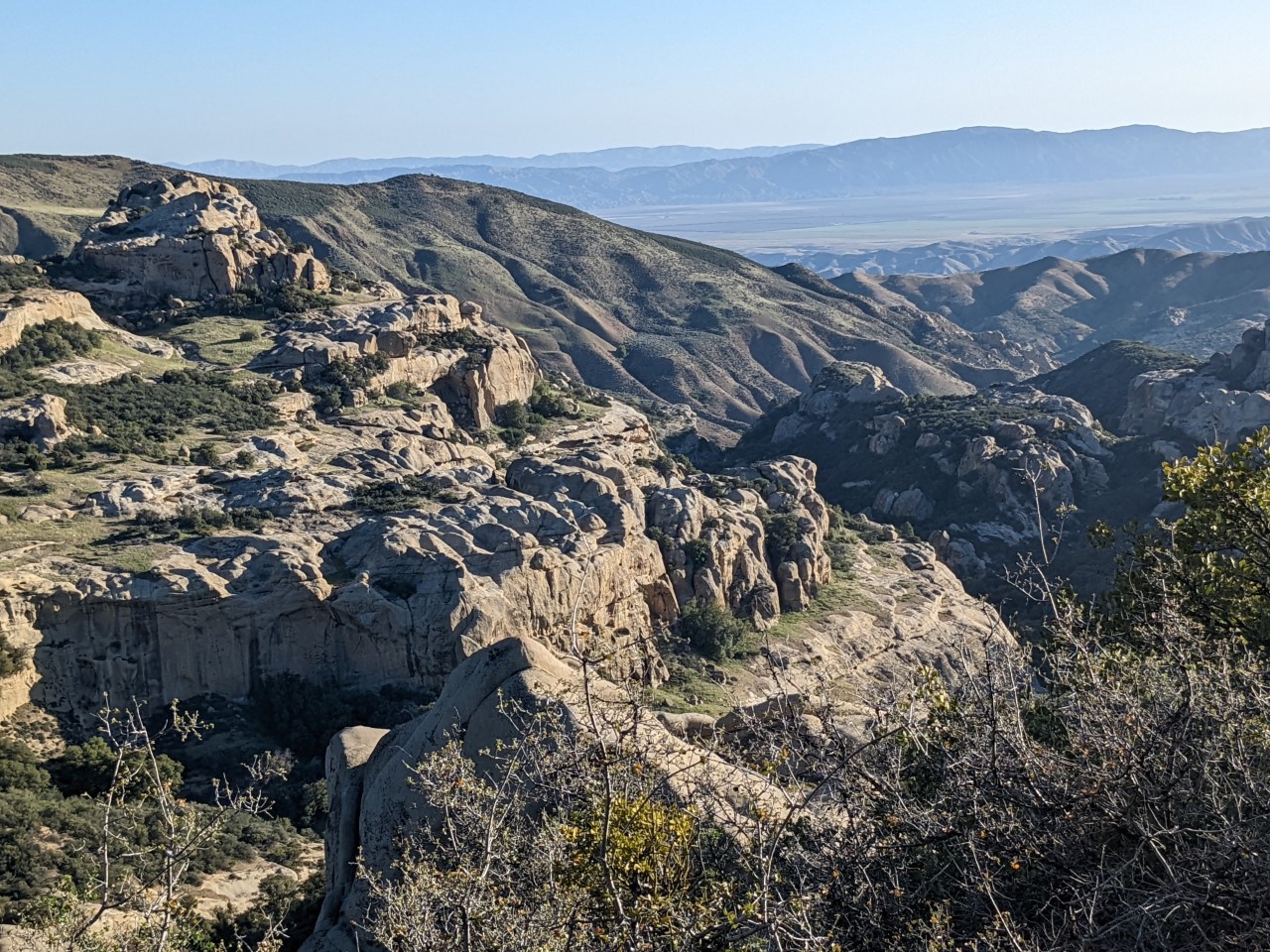 I told Steven that my wife had already left and was in Santa Barbara enjoying a day at the beach. I was set on the fact that we would complete our route today but that was the nail in the coffin. It was going to be a push to get there, especially as the day dragged on. We passed another rider and Steven shared his torx wrench in which the participant shared with us later he would not have finished if it weren't for Steven giving him that to use. We used what little light we had left in the day to get up the last climb over to Romero Canyon. At this point we had climbed over 15,000 feet over the past 36 hours. Never have I ever put those numbers up on any ride or the cumulative time on the saddle. When we crested the ridgeline, we hit our final singletrack descent. This would have been an absolute dream to ride on during the day but difficult in the windy night. It was flowy with rocky technical bits and we did our best to make it down as fatigued as we were. At some point we pulled over and Steven had noticed his big 2.8 tire had gone flat. Luckily, he had a foam insert in and was able to ride it. He plugged it aired it up and it seemed to hold. Shortly after Steven got a flat, I ended up getting wrapped up in my bike but fortunately jumped away into the bushes. My hardtail hit the ground hard. I picked it up and while it looked fine, I didn't notice I had broken a spoke. We limped the rest of the way into Santa Barbara proud of what we had done. I kept imagining there would be this big party at the finish line with people at this bar cheering for us waiting to bring us in but instead, we just got there and stared at each other. Was it really over? Did we just do 170 miles in two days? I had set out to complete this trip to push myself and find my limits. In doing so, I found that I can do much more than I previously believed. Even though this was my first ever bikepacking event, I am hooked and I know that I belong here. I am a bikepacker and I am capable of accomplishing whatever I set my sights too.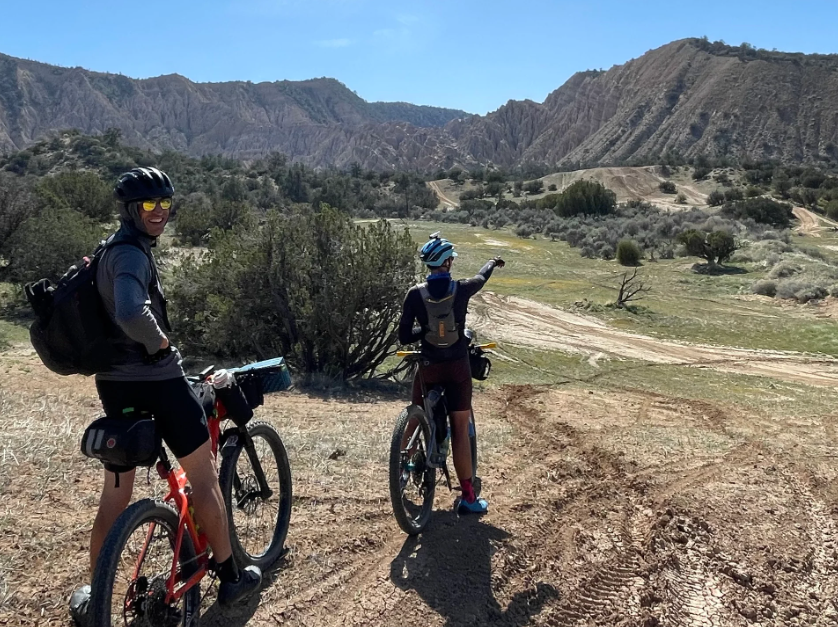 I want to give a special thank you to the following people for helping make this possible: Steven who kept me grounded (literally) throughout the ride and for giving me my trail name of Captain Ahab for my monomaniacal pursuit of our two day finish. Kevin and the whole crew at
Grizzly Cycles. Alejandro and the Cumbre crew. Jack Miller who took me on countless training rides up mountains. Zach Davis for filling me in on all the crazy logistics and details of the route. Lastly, each and everyone that I've gotten to ride with on bikepacking trips: You all inspire me and motivate me. If you made it this far, I hope that reading this inspires your own adventures whether that's commuting to work for the first time on your bike or to complete your first bikepacking trip. It doesn't matter what the distance is, what matters is that you break down any barriers and experience it.